Who was Brad?
This page and the pages linked here contain content that has been archived from a Geocities-based memorial page for Brad.
Bradley J. McCue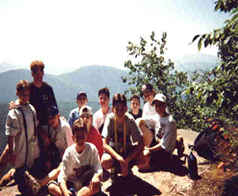 Brad was undecided in his major for the first year and 1/2 at MSU. Last year he decided on Recreation Management and was very excited about the Parks and Recreation Management. He planned to go to the Netherlands with the study program there next year through the Rec Managment and Tourism department at MSU.
For two summers he was a day camp counselor with the Independence Parks and Rec Dept. He loved working with the kids and they loved him. He also coached a soccer team of 10 year olds. At school he worked at the local indoor soccer arena and coached a team there also. This past summer he spent 8 weeks at Timber Lake Camp in New York as a camp counselor. There he lived and worked with the same group of 10 boys for the whole summer.
All of the letters that we have received from people tell us how happy he was--how he loved helping the kids--how he always listened to them. We knew that. He enjoyed life and was looking forward to all that he had planned to do.
He made a bad choice in what happened on his birthday. And now no one will have the pleasure of seeing what he could have done.
We know that for people to learn from Brad's mistake, they have to know what happened and how easily it can happen.
Additional pages archived from the Geocities Memorial Site:
[ A Poem For Brad | The Dangers of Binge Drinking ]