The Dangers of Binge Drinking
This page and the pages linked here contain content that has been archived from a Geocities-based memorial page for Brad.
Bradley J. McCue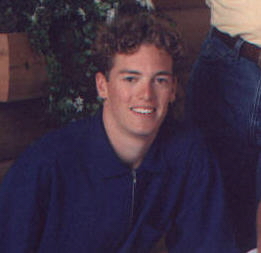 This article, that was written by the local media, DOES NOT necessarily represent the view points of Brad's family and friends.
Bradley McCue turned 21 at the stroke of midnight Wednesday and, like college students across the country, celebrated his rite of passage by drinking with friends.
Two hours later, his friends helped put him in bed and apparently topped off the evening's celebration by painting McCue's nose red and the message "24 shots" across his face.
They didn't know that as they were painting his face, Bradley McCue was dying. The 24 shots he drank pushed his blood alcohol level up to 0.44 percent, a lethal level.
McCue, a Michigan State University junior from Clarkston, was dead by the time his roommates called for help at 8:45 a.m. Thursday. The acute alcohol poisoning leads to a suppression of the medulla, the part of the brain that controls breathing, and that cuts off the oxygen supply, said Dean Sienko, Ingham County's chief medical examiner. McCue was probably dead or dying by 3 or 4 a.m., Sienko said.
Now the police are trying to decide whether anyone connected with the party will face criminal charges.
News of the tragedy rippled across MSU's campus Friday. University and East Lansing officials were unanimous in their plea to students and the community for a fundamental change in values that would lead to students partying without dying.
"There can be a rite of passage without passing out," MSU President Peter McPherson said. "We must challenge traditions and behaviors that now seem socially acceptable."
The tragedy is more painful for MSU after student, campus and community leaders spent most of the summer developing a plan that would lead to that kind of change. A combination of education and enforcement on alcohol-related issues will be in place by May 1.
Too late for Bradley McCue.
Even if she hadn't seen McCue in months, high school friend Heather Pattison said he'd always greet her like old times. "If there's anything I could say about Brad, it's that he was everyone's friend," said Pattison, an MSU student. "If it was anyone it had to happen to, it shouldn't have been Brad."
"Brad was one of those people with a large group of close friends," said Peter Bertling, another MSU student who shared McCue's home town. "He was totally outgoing, always putting on a show. There was no way to bottle up the energy he had.
"Everybody loved him."
The death has caused McCue's family "unspeakable pain," according to a statement released late Friday through the funeral home. Bradley was pursuing an education in youth-related recreation management, and was a youth camp counselor and soccer coach, referee and player, the family said. He had worked for Independence Township Parks and Recreation. "Bradley was a wonderful son and brother.... His death was an example of an alarming trend on too many college campuses," the statement said. It asked young people to learn from the tragedy, concluding, "Please BE SAFE and help others be safe as well."
Student leaders brought by the administration to a news conference acknowledged the death hit close to home. Nate Smith-Tyge, chairman of the Associated Students of MSU, said he helped a friend celebrate turning 21 by drinking the same night McCue drank himself to death.
"It was a little scary. It could have been anyone," Smith-Tyge said. His message: Friends should be responsible for friends. "No people who have gone and done this have done it alone," he said of students who have drunk too much.
The medical examiner ruled McCue's death accidental, but that doesn't preclude the Ingham County prosecutor from pressing charges. Police declined to say whether those partying with McCue or the owners of any bars McCue may have been in would face charges.
Witnesses told police McCue consumed 24 shots of alcohol, but police did not release details such as what alcohol McCue was drinking, whether he drank in a bar or who was with him.
MSU isn't alone in battling student drinking.
MSU, the University of Michigan, Massachusetts Institute of Technology, University of Virginia, Louisiana State University -- all have had alcohol-related deaths. Studies have found up to 40 percent of college students binge drink.
"The prevalence and tacit acceptance of these behaviors explain why alcohol-related deaths occur among college students and why people fail to intercede and stop the fatal cascade of heavy drinking," Sienko said.
Despite alcohol-free dorms and stadiums and alcohol counseling, Michigan colleges and universities are losing the fight to curb student drinking, an earlier Free Press survey showed.
Michigan's 15 public universities say they have stepped up alcohol education and counseling. U-M, Eastern Michigan and Central Michigan have received national recognition for their efforts, which include peer, group and individual counseling; mandatory alcohol education for students who violate campus alcohol policies; alcohol-free campus events; preventive education during Alcohol Awareness Week, and confidential alcohol assessment testing.
Critics say universities aren't making the obvious decision: banning alcohol from dorms, activities and all areas of campus.
But educators and administrators say a total ban is unrealistic when anyone age 21 or older can legally buy and drink alcohol.
In East Lansing, the white and brick house where McCue died looks much like the other run-down duplexes that give this section of Albert Avenue the nickname "the student ghetto." It's just around the corner from Gunson Street, scene of a drunken riot in 1997. Beer cans, bottles and caps are everywhere.
"I think more so with guys on their twenty-first birthdays, they go crazy," said Michelle Joboulian, 20, of Northville.
Students living near McCue's duplex were not as shocked to learn a student died from drinking as they were to discover how close it was to them. "I think it hits harder home when it happens right across the street," said 20-year-old Adam Tuttle, from Tompkins.
But most students said friends generally look out for each other in social situations, such as at the bar.
"It's like an unwritten rule that when you go out with friends that you look out for each other," said Rachel Beck, 20, of West Bloomfield Township. "Not just how much you drink, but where the drinks are coming from."
Additional pages archived from the Geocities Memorial Site:
[ A Poem For Brad | Who Was Brad? ]