B.R.A.D. Programs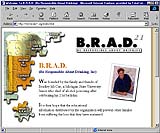 WEB SITE
We hope that this site will give useful facts about alcohol and its use and abuse. It is our intention to keep this site current and interesting.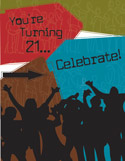 BIRTHDAY CARDS
B.R.A.D. provided young adults turning age 21 with a birthday card. The card tells Bradley McCue's story, provided information about alcohol poisoning symptoms and a reminder to celebrate responsibly. Over 131 US colleges and universities in 31 states have distributed over 400,000 B.R.A.D. birthday cards.
For those interested in reviewing the details of the survey of students receiving the B.R.A.D. birthday card, please. Click here for survey details.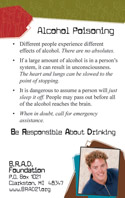 WALLET CARDS
Laminated wallet cards were developed to provide important information regarding the signs, symptoms and appropriate emergency measures for dealing with alcohol poisoning. Over 750,000 have been distributed to high schools, colleges, and interested groups and individuals. The cards are also used as birthday card inserts by many of the colleges participating in the B.R.A.D. birthday card program.